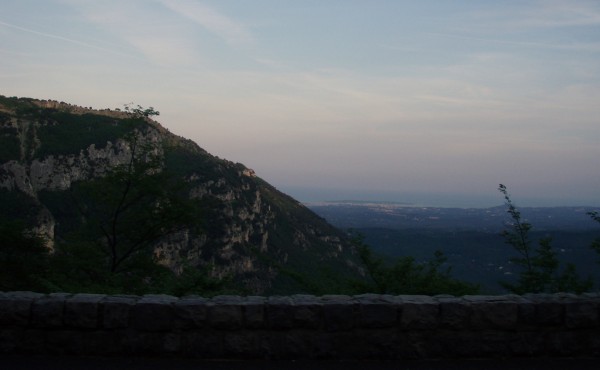 An hour after I started my cycling trip today I stumbled upon a beautiful valley or canyon. It was steep as I've seldom seen them before, accompanied by some beautiful waterfalls. Some hundred meters up I was presented with the most stunning view of the valley with the sea in the background. I believe I could see from Nice to Juan les Pins. Amazing.
Some nights ago I was sitting on the bus back from Nice, and there I was sitting behind an actual tagger. If writing "SWAT ADN" on the bus seat with a carpenter pencil is tagging, that is. I'm pretty sure this is the first time I've actually seen one of these fascinating people who find the need to bring a pen/pencil/marker with them, just in case they get a chance to write something meaningful for the future generations.
On the same bus was another winner. I first saw him trying to sneak past the two security guards checking the tickets. After actually buying a ticket he sat down two rows behind me on the left. Just as a girl, she was obviously very drunk, fell asleep in front of me, he almost ran through the bus trying to take advantage. She promptly denied him, luckily, making me re-evaluate the bad impression I had of her.
As she fell asleep one more time our hero once again rushed forward in hopes that all past tries were forgotten. Denied again.
My money has flown away and I'm trying to rule this town on a budget granting me less than an average poor Sudanese.