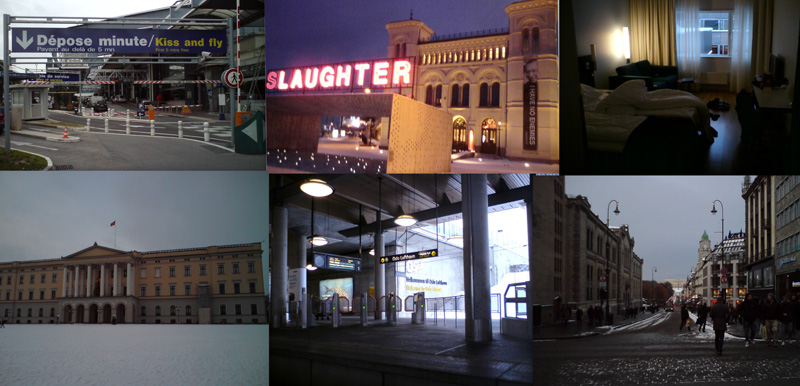 Unaware of my plans to return home for Christmas, my mom and dad were kinda surprised when I walked into the living room this evening.
It's not like she hadn't suspected anything though. I'd been carefully planning this secret return, involving my siblings if not just to get a ride home from the airport instead of having to take the bus, and also of course to have someone to buy all my Christmas presents,.
It all started Friday afternoon with the plane from Nice to Copenhagen being 30 minutes late because the airspace over Amsterdam was closed. Anxious that I wouldn't catch the next flight from Copenhagen to Oslo, I ran to the gate only to find that one also being 30 minutes late.
Those 30 minutes meant that I would have to run for the next flight to Kristiansand, but a flight attendant told me I would surely make it, even though when transferring within the country you have to pick up your bags, take them to the baggage drop once again and go through the security control one more time.
When coming to Oslo, I didn't have to run at all, though. This because the plane touched the ground in Norway two and a half hours later than originally planned, due to heavy snow and cold leading to a long queue for the deicing and only one open runway.
8PM, as I turned on my cell phone in Oslo I had two messages from the airway, one that said the plane I just left two and a half hours late would be an hour late, one saying that they booked me on the next flight to Kristiansand; 6:30PM the next day.
At the information everything was disorganized, and the only thing new information hungry passengers got was a message to take a queue ticket. So I took a ticket with the number 4631. The current customer being served had number 4391. That would've been bad enough if each customer was served fast enough, but was even worse when they used on average 15 minutes per customer.
Not knowing what to do, I tried taking the airport express to Oslo to catch the train back home instead. Once in Oslo, I redecided, and went back to the airport to try and get a free hotel room for the night.
At Gardermoen, the information was closing, everybody was complaining, and the people at the information for some reason found that they could actually serve all these customers fast and painless. In fifteen minutes, they've given hotel tickets to around 50 people, me included, and resolved the whole line. Amazing what a little motivation to go home from work can do.
Waking up in my amazingly nice hotel room, I took a shower, had the best breakfeast ever, trained for forty minutes, had another shower, went to the airport, checked in, went to browse Oslo, went to the airport, took the plane to Kristiansand, took the bus to Arendal and rang the doorbell back home.